About us
Tent rental & event management
Do you need a party tent for your birthday or garden party, a marquee with sophisticated equipment for your company event, a wedding or a tent for storage purposes?
As a reliable partner for tent rental and event management, we offer a wide range of options.
We rent you a party or marquee tailored to your needs with all the services around – of course not only in Grafenwöhr or Weiden, but also beyond the Upper Palatinate.
Biersack tent rental & event management from Grafenwöhr has several tents in different sizes as well as numerous tent equipment such as marquee sets, wooden floors, lighting, tent decorations, stages, toilet vehicles and tent heating.
We have already contributed to the success of many events in Weiden, Neustadt a.d. WN, Altenstadt, Kemnath, Bayreuth, Vilseck, Amberg, Hütten, Kaltenbrunn, Wiesau, Tischenreuth, Weiherhammer, Mantel, Eschenbach, Pressath …
Tent rental
for rent now at affordable rates: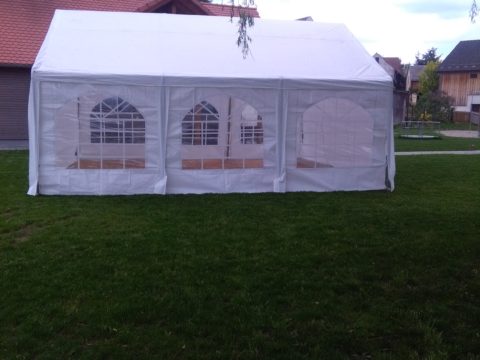 Party tent
Wide / Length
5 m / 6 m
5 m / 8 m
5 m / 10 m
Stage roof
Wide / Length
5 m / 10 m
10 m / 10 m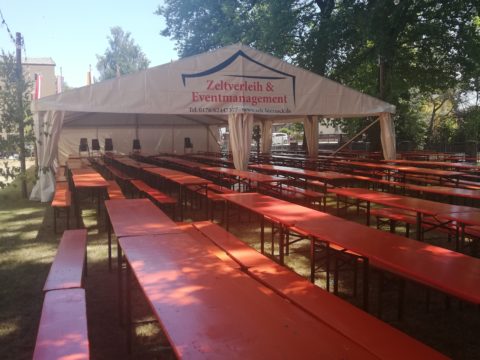 Marquee
Wide / Length
10 m / 40 m
Support height 2.30 m, ridge height 4.30 m
Planning with PVC-coated polyester fabric
hardly inflammable according to DIN 4102 / B1
Scaffolding aluminum profile, Ger. Statics according to DIN 4112 and test book
Tent can be opened all around
Anchoring with pegs
Fastening with ballast possible
Roof tarpaulins and gable tarpaulins made of PVC opaque white (opaque)
| Test size | qm | Number of people (approx.) * |
| --- | --- | --- |
| 10 x 5 m | 50 | approx. 90 people |
| 10 x 10 m | 100 | approx. 180 people |
| 10 x 15 m | 150 | approx. 270 people |
| 10 x 20 m | 200 | approx. 360 people |
| 10 x 25 m | 250 | approx. 450 people |
| 10 x 30 m | 300 | approx. 540 people |
| 10 x 35 m | 350 | approx. 630 people |
| 10 x 40 m | 400 | approx. 720 people |
* Approximate number of people with seating with beer table sets (10 people per set)
The event tent
The right tent for your event in Grafenwöhr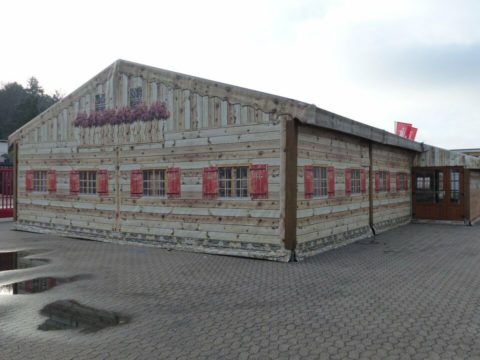 Marquee for celebrations of all kinds
The event tent is already set up and can be rented for your events at any time. So all you have to do is celebrate and we'll take care of the rest. Kitchen, bar, cooling unit, toilet etc. are all integrated. The fully equipped marquee is located in Grafenwöhr in the "Am Flugplatz" industrial park.
The tent is 10 wide and 20 m long and has a sturdy wooden floor. An extension tent including doors is connected, which can be used as an entrance or a catering area.
Depending on the seating, the tent offers space for up to 250 people.
There are plenty of parking spaces around the tent. To ensure the exclusivity of your event, the tent is completely fenced in.
In addition to the perfect equipment, we also offer the right catering for your event. Alternatively, you can just rent the tent and hire other catering companies.
Event equipment
Benefit from our experience in tent rental and event management.
Refrigerated trailers
Folding tables and benches
Party accessories
Heating
Toilet trolleys / toilet trailers
and many more
In addition to the tent, you need equipment such as refrigerated trailers, toilet trailers, lighting, seating, counters, etc. for your event?
We can help you here too. Just talk to us about it or send us a non-binding inquiry.
Inquiry
We are happy to help.
+49 (0) 176 / 62 44 73 77
You can use this form to send us a non-binding inquiry. We will get back to you as soon as possible!